Registration Now for Summer 2023!
Dance Camps Age 3 – 6
Prince & Princess Camp
Enter the MAGICAL Kingdom of KrAz Dance and join our royal ball! Campers will experience enchanting new dances to music from Disney classics! Let your imagination run wild in our magical kingdom, anything is possible! Special guest appearances by princesses await, story time, crafts and snack will be provided. Campers are encouraged to dress up as their favorite prince or princess (please wear a leotard and tights under your costume).
June 12th, 14th, 16th
A $25 non-refundable deposit is due at the time of registration.
It's a Beach Party!
A sandy adventure awaits in the heat of summer! Make a splash and stay cool at the KrAz Dance Beach Party! Campers will experience beach themed dances and crafts during this two hour camp! A small snack is provided.
August 7th, 9th and 11th.
A $25 non-refundable deposit is due at the time of registration.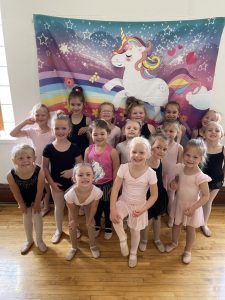 Competition
Comp Prep
This one-day camp will introduce the dancer to tap and jazz skills needed to audition for our competition line. Comp Prep is highly recommended if your student will be auditioning our competition line. For more information contact Kelsey at 701.640.8234.
August 2nd
Ages: 5-18
Cost: $20/hour
KrAz Company Auditions
Audition for our award winning competition line! The KrAz Dance Competition Team is an elite level training program preparing dancers to compete routines in the spring. Auditions are open to ages 5 – up. Teams will be decided based on age groups/skills/performance level. Exact audition times will be announced closer to August 9th.
August 7th-10th
*A $40 non refundable audition fee is due at the time of registration.
Dance Camps All Ages
KrAz Summer Intensive
This four-day camp features guest teachers from the Twin Cities area! We have over 7 guest teachers coming in to share their talents and with our students! Styles include, Hip Hop, Jazz, Contemporary, Lyrical, Tap and Technique classes. Your student will leave camp feeling inspired and eager to learn more! We are excited to provide big city training for our students!
July 10th – 13th
Age 7 – up
4 – 7pm
$199
*A $50 non refundable deposit is due at the time of registration
KrAzy Dayz at KrAz
KrAzy Dayz at KrAz is a 3-day camp June 27th – 29th. Take one style or all three! The choice is yours!
This is the perfect camp to learn new skills, brush up on old ones, try out a new style or just dance with a buddy during the summer!
Tot Hop Studio 1 Age 5/6
4:00 – 4:30pm Miss Kelsey
Hip Hop Studio 1 Age 7-10
4:30 – 5:15pm Miss Kelsey
Lyrical Studio 2 Age 11 – up
4:30 – 5:15pm Miss Alise
Tap/Ballet Studio 3 Age 5/6
4:30 – 5:15pm Miss Alyssa
Hip Hop Studio 1 Age 11 – up
5:15 – 6pm Miss Kelsey
Lyrical Studio 2 Age 7 – 10
5:15 – 6:00pm Miss Alise
Tap/Jazz Studio 3 Age 7 – 10
5:15 – 6:00pm Miss Alyssa
Tap/Jazz Studio 1 Age 13 – up
6:00 – 6:45pm Miss Kelsey
Ballet Studio 2 Age 7 – up
6:00 – 6:45pm Miss Alise
Tap/Jazz Studio 3 Age 11 – 13
6:00 – 7:15pm Miss Alyssa